Give a flyboard session as a gift! The Lauderdale Flyboard gift certificate can be purchased online and will be quickly sent to you online. When you give someone our flyboard gift certificate you're giving them an experience that will last a lifetime! Our vouchers are an excellent gift for your closest friends, family members, and loved ones. Select one that suits you now!
Have you ever wondered how it would feel to dive like a dolphin or fly like Iron Man? What would it be like to surf the sky instead of a wave? After buying a flyboarding gift certificate, you can let a friend or loved one experience all these sensations! From teens to adults anyone can have fun on the flyboard. Give your closest friends a chance to fly or, give someone's child a chance to see their parent as a flying superhero!
This Gift Certificate grants one person an Experience on the Flyboard. Our Experience consists of 10 minutes of land instruction with the remaining flight time in the water. Purchase this gift certificate and you will receive your redemption code by email. Reservations required and can be made online. Code must be valid for redemption.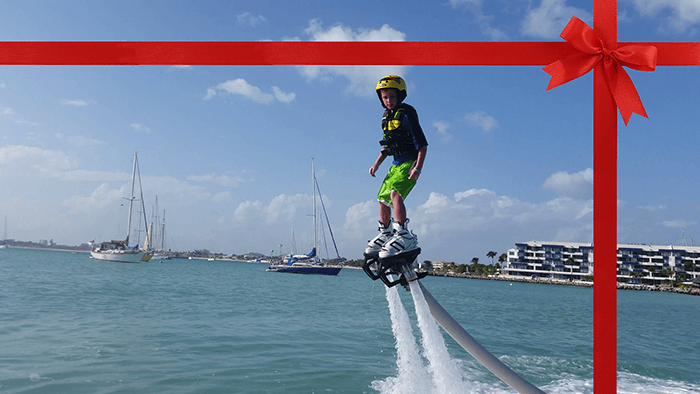 Each session includes a 5-10 min class and we will spend the remainder of the time on the water. Anyone can master the flyboard! Even first time flyers will usually be up in the air within the first 5 to 10 minutes of their session!

From the extreme sports fanatics, to the first time adrenaline seekers, we understand that everyone's skills and confidence levels are different. Each flyboard session is tailor made to the individual customer, and our instructors will be there to guide you through.

Your session will start on land, with a pre-flight safety briefing where you will learn the rules and basics of the flyboarding or hydroflight. Then we'll strap in and our instructors will show you how to surf the sky!

Through our training program, you will be shown basic control and tricks, including dolphin diving, 360+ degree turns, reverse bungees and more! For the extreme sports junkie, our freestyle time will allow you to show off your skills and burn some adrenalin with all the tricks you've mastered throughout the session!

We will provide
-All safety equipment (Lifejacket and Helmet)
-Free Parking
-The most incredible time of your life!